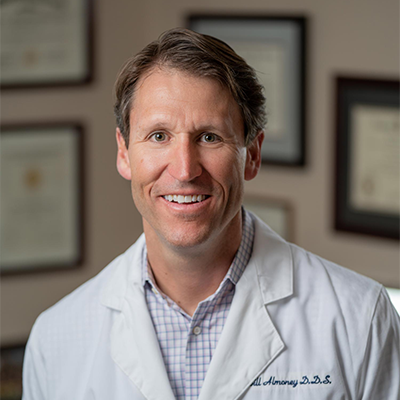 Family and Cosmetic Dentist in Kettering, OH
Dr. William Almoney received his undergraduate degree from Vanderbilt University, and
in 1998, graduated with honors from the Ohio State University – College of Dentistry. Dr.
Almoney returned home to Dayton to join his father in practice while also teaching
restorative dentistry at Ohio State University. For ten years, he enjoyed the opportunity
to work beside his father and is committed to providing the same patient-centered care
upon which the practice was built.
Dentistry is constantly changing and Dr. Almoney understands the importance of
continuing to learn and grow as a dentist. Through his involvement in dental study
clubs, continuing education courses, dental organizations like the American Dental
Association, and professional journals, Dr. Almoney strives to keep himself and our staff
trained and knowledgeable in current dental topics, techniques and technology. He is
committed to providing our patients the best possible dental care.
Dr. Almoney and his wife, Jennifer, have four children (Charlie, Grace, Emma and
Henry) and when not at the office, he enjoys traveling with his family, cheering on the
FC Cincinnati soccer team, and loves cooking and trying new restaurants.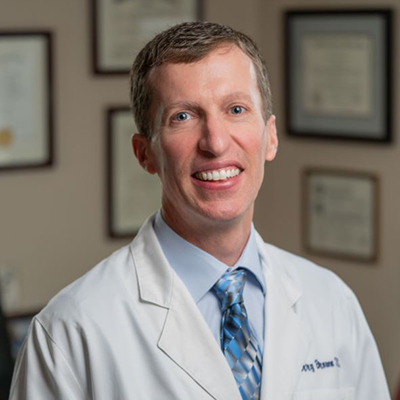 Family and Cosmetic Dentist in Miamisburg, OH
Dr. Gerald Brown graduated from the Ohio State University in 1997 with an undergraduate degree in Molecular Genetics. In 2001, he graduated from The Ohio State University College of Dentistry with honors. A native of St. Mary's, Ohio, he had practiced general dentistry for six years before coming to Dayton to join our practice in 2007. Dr. Brown stays current with the latest in dentistry through a professional study club, America Dental Association, and continuing education. His focus on patient-centered care aligns perfectly with our office vision, and he has played a vital role as we have added digital technologies to our office.
In his free time, he enjoys spending time with his wife Nichole and their 2 sons. As a family they enjoy most outdoor activities including camping, hiking, and bike riding.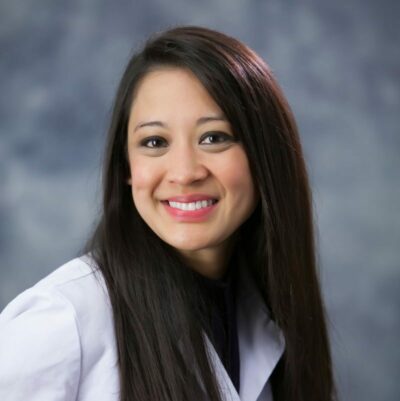 Family and Cosmetic Dentist in Kettering, OH
Dr. Pamela Quinlan graduated from Case Western Reserve University School of Dental Medicine in 2008. She was accepted into the Health Professional Scholarship Program with the US Army and served for five years as a general dentist for active duty members after graduation. During her service, she was stationed stateside at Fort Polk, Louisiana and Fort Benning, Georgia. She was also deployed to Joint Base Balad, Iraq in 2010. Dr. Quinlan gained a wealth of knowledge from various general dentists and specialists in the Army.
After finishing her military commitment, the Worthington, Ohio native decided to return to her home state in 2014 to work in private practice and is excited to be in her home state. Outside of work, Dr. Quinlan spends the majority of her time with her husband, Kevin, and her two dogs, Bandit and Echo. She enjoys cycling and cooking.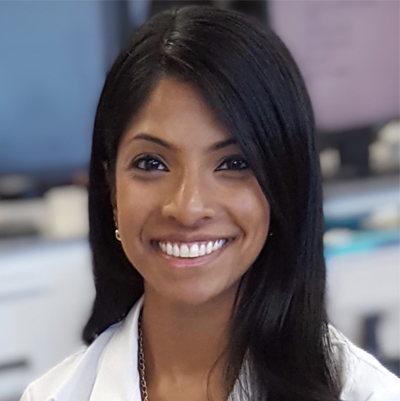 Asita Vinayagalingam, DMD
Family and Cosmetic Dentist in (Belmont) Dayton, OH
Dr. Asita Vinayagalingam received her bachelor's degree in Molecular and Cell Biology from Texas A&M University and went on to pursue Master's degrees in Biomedical Science and Oral Biology at Philadelphia College of Osteopathic Medicine and Rutgers University, respectively. Dr. Vinayagalingam received her Doctor of Dental Medicine degree from the Dental College of Georgia in Augusta, GA. Following dental school, she attended the University of Detroit Mercy to complete her Advanced Education in General Dentistry (AEGD) residency, focusing on advanced restorative and comprehensive care cases.
Dr. Vinayagalingam strives to provide her patients with compassionate and high quality dental care, fostering a comfortable environment while building long-lasting relationships along the way. She is a member of the American Dental Association, Ohio Dental Association, and Dayton Dental Society.
Dr. Vinayagalingam is an avid lover of the performing arts, indoor cycling, and traveling. When she is not in the office, she enjoys spending time with her family and friends and exploring new restaurants.